Published: 20 May 2018

20 May 2018

Last Updated: 20 May 2018

20 May 2018
Hi Pre65 Club members
Last week you were sent an email asking for you to reply with a YES/NO response to recieving emails (see below) so far I've had 83 repsonses giving their consent. So please check your email or send a message giving a yey or ney to recieve info to with your name so the membership database can be updated accordingly.
Your privacy is important to us, and we want to communicate with our members in a way which has their consent, and which is in line with UK law on data protection including the General Data Protection Regulation (GDPR). Please see our Privacy Notice which is available from our website or on request.
Sometimes it is necessary for us to contact you to inform you of late changes of venues or race cancellations etc. In order for you to continue to receive these emails we need your explicit consent. Please indicate your preference of Yes or No. and we will update our membership records accordingly from your reply.
To keep me informed about news, events, updates & activities
I consent to The Pre-65 Motocross Club contacting me by Email and/or Tel: YES / NO
Please note you can unsubscribe from our emails and request that we stop sending you information at any time.
Many Thanks
Pre-65 Motocross Club
Published: 03 February 2017

03 February 2017

Last Updated: 21 November 2017

21 November 2017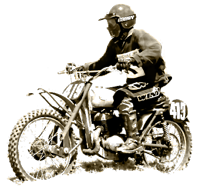 The Pre-65 Motocross Club specialises in running and organising classic motorcycle scrambles in the East of England. Check out our race calendar for dates and if you are interested in becoming a member of the Pre-65 Motocross Club, then please head to the membership page for more information.
An alternative way to get involved with Pre-65 Motocross is to come and marshall at one of our events, anyone over the age of 18 is able to help out (due to insurance requirements). Marshalls will be fully trained before each meeting and will receive a safety briefing from our Chief Marshall at the beginning of the day. Marshalls are also give a contribution towards their expenses as well as a lunch voucher. For other ways of getting involved, please see the membership page.
For more details, please contact us and we will be more than happy to answer any questions that you may have.
Published: 23 January 2018

23 January 2018

Last Updated: 23 January 2018

23 January 2018
Pre-65 Motocross Club Magazine Downloads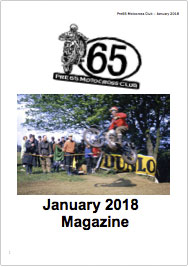 Cover Photo of #5 Jack Hubbard photo by Alan Cocksedge, distributed by Roger Chapman.
Published: 23 November 2017

23 November 2017

Last Updated: 11 January 2018

11 January 2018
Further to the classics meeting at the AMCA on 18th November we have been asked to enforce the number plate colouring on your bikes from the first meeting next year (18th March) giving you plenty of time to get it right.
The colours are:
Pre 60 bikes - white background with black numbers
Pre 65 bikes -

black background with white numbers
Pre74 bikes (1965-1973) - red background with white numbers
This is as per the rule book. We will be checking at scrutineering in March.
Published: 29 January 2017

29 January 2017

Last Updated: 03 April 2017

03 April 2017
There are still some folk out there who have reregistered here on the Pre-65 Club website but for some reason haven't yet logged in.
This is probably due to the activation email sent to you getting lost somewhere / sent to spam folder (dig it out and white list it) / or the email address entered was incorrect - and for anyone with an AOL email address it would never have gotten to you due to an AOL quirk.
I have manually activated the following list of folk so anyone spotting themselves please try logging in with the details you entered when registering.
Published: 12 January 2017

12 January 2017

Last Updated: 27 February 2017

27 February 2017
In order to reduce the administrative burden of sorting those that have a current membership and those that do not, it is to first apply for Club membership and having received your receipt to then apply for your licence.