Published: 03 February 2017

03 February 2017

Last Updated: 24 August 2019

24 August 2019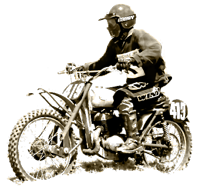 The Pre-65 Motocross Club specialises in running and organising classic motorcycle scrambles in the East of England. Check out our race calendar for dates and if you are interested in becoming a member of the Pre-65 Motocross Club, then please head to the membership page for more information.
An alternative way to get involved with Pre-65 Motocross is to come and marshall at one of our events, anyone over the age of 18 is able to help out (due to insurance requirements). Marshalls will be fully trained before each meeting and will receive a safety briefing from our Chief Marshall at the beginning of the day. Marshalls are also give a contribution towards their expenses as well as a lunch voucher. For other ways of getting involved, please see the membership page.
For more details, please contact us and we will be more than happy to answer any questions that you may have.
Race meetings aim to get the first race underway at 10:30am.

Spectators Welcome at Race Events - Entry £5 at the gate.
Published: 29 May 2019

29 May 2019

Last Updated: 11 June 2019

11 June 2019
We were blessed with good fortune throughout the preparation and running of last weekends meeting. Fortunate in that we had an enthusiastic work party assemble on Saturday who threw themselves at erecting the track and also a passionate chairman. He journeyed all the way home to collect his tractor and bowser and then spent the evening and early morning damping down the bone hard ground. Boy didn't it make conditions far more enjoyable for competitors and spectators alike. Even Di came out of retirement to welcome a host of visitors keen to witness proceedings.
Dave Savill had organised nine marshals for us prior to the occasion so, come nine thirty the Chief Marshal was giving out his instructions and Practise was underway around 9.45.
Racing commenced with all classes keenly contested throughout the first session. The John Waylett trophy went to Ray Wood aboard his Challenger with Steve Billot second and a young upstart by the name of Pete Griffiths third. Most fitting as, like the patron of the Trophy who owned one, he was aboard a Maico.
Published: 15 April 2019

15 April 2019

Last Updated: 25 April 2019

25 April 2019
To comply with the AMCA rulebook every rider must have a 2kg fire extinguisher in their vehicle.
AMCA stewards will be performing random checks throughout the year so please ensure you have an extinguisher at every meeting. Also consider displaying it in a prominent position to help the stewards and make it easy to find in an emergancy.
Published: 15 April 2019

15 April 2019

Last Updated: 15 April 2019

15 April 2019
Pre68 over 350cc Championship
The Pre65 Motocross Club is pleased to announce there will be a Pre68 over 350cc Championship in 2019
TDS Classic Off Road Motorcycles will be running and sponsoring the Championship this year.
For the riders, as per AMCA rules the Pre68 number boards should be Blue background with White numbers.
Published: 06 February 2019

06 February 2019

Last Updated: 02 March 2019

02 March 2019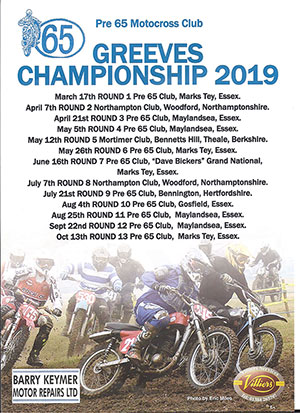 Published: 24 January 2019

24 January 2019

Last Updated: 24 January 2019

24 January 2019
Diane has announced her 'Retirement from Gate Duties' starting this 2019 season - a Big 'Thank You' from the Pre65 Club for all her Gate Duties efforts over many seasons!

However, now looking for a new/replacement Volunteer applicant/s:
Gate Duty hours: 09:00 – 14:30 (approx.)
Any interested applicants, please contact a Member of Pre65 Committee.
Published: 14 December 2018

14 December 2018

Last Updated: 25 February 2019

25 February 2019
Registered users can read and download the minutes from the 2019 AGM under the heading News then Newsletter.
Published: 28 November 2018

28 November 2018

Last Updated: 21 December 2018

21 December 2018

Membership Form 2019.pdf
Published: 24 November 2018

24 November 2018

Last Updated: 24 November 2018

24 November 2018