Last Updated: 19 December 2020

19 December 2020
Looking to join a classic scrambles club in England? Then the Pre-65 Motocross Club could be the classic scrambles club for you.
On this page you will find information that explains how to join the Pre-65 Motocross Club and how to start classic scrambling with all British AMCA classic scrambles clubs.
Last Updated: 12 December 2020

12 December 2020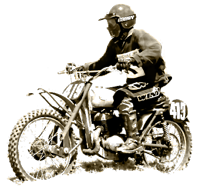 The Pre-65 Motocross Club specialises in running and organising classic motorcycle scrambles in the East of England. Check out our race calendar for dates and if you are interested in becoming a member of the Pre-65 Motocross Club, then please head to the membership page for more information.
The club is adhering to Government and AMCA guidance during the Covid-19 outbreak. Unfortunately we are currently not able to allow spectators into any of our planned events. Please check the website for lastest news as we will be posting updates when anything changes.
It is likely that each event in 2021 will have their own set of unique rules for competitors and mechanics. Please check the entry regulations for the event you are interested in to ensure you are compliant.
Last Updated: 29 December 2020

29 December 2020
Due to ongoing Covid restrictions we are currently unable to plan a 2021 AGM, which is usually held each January.
There is a formal notice available to read/download on the club website (under News, Newsletter. note. you need to be logged in), but one specific section we want to bring to your attention is as follow;
... the Pre-65 Committee have met via Zoom meetings and, provided no objections from Members, the Committee have agreed "… to 'Roll-over' the existing 2020 Committee into 2021, until such time that Members can meet." - as Minuted from October Committee Zoom Meeting and these proposals 'Agreed' with AMCA.
2020-2021 Committee:
Chairman – Roy Crisp
Club Secretary – Julian Smith
Company Secretary – Amanda Austin
Treasurer – Lesley Willmore
Membership – Dave Savill
Dave Austin
Roger Digby
Graham Eastall
Greg Radley
Mark Moss-Robins
Any objections, or comments on Club business, contact the Company Secretary: Amanda /Mandy Austin, Broadview Bungalow, The Street Brundish,Suffolk IP13 8BL. E mail:
Last Updated: 25 April 2019

25 April 2019
To comply with the AMCA rulebook every rider must have a 2kg fire extinguisher in their vehicle.
AMCA stewards will be performing random checks throughout the year so please ensure you have an extinguisher at every meeting. Also consider displaying it in a prominent position to help the stewards and make it easy to find in an emergancy.
Last Updated: 05 November 2019

05 November 2019
Please ensure you have the correct number plate colour and race number colour on your bike for every meeting. These will be checked during technical inspection.
The colours are:
Pre 60 bikes - white background with black numbers
Pre 65 bikes -

black background with white numbers
Pre 68 bikes -

blue background with white numbers

Pre74 bikes (1968-1973) - red background with white numbers
This is as per the AMCA rule book.
Last Updated: 28 November 2019

28 November 2019
In order to reduce the administrative burden on the AMCA of sorting those that have a current membership and those that do not, you will need to first apply for Club membership. Once you have received your membership receipt, you should then apply for your AMCA licence.