Published: 03 February 2017

03 February 2017

Last Updated: 24 August 2019

24 August 2019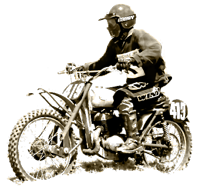 The Pre-65 Motocross Club specialises in running and organising classic motorcycle scrambles in the East of England. Check out our race calendar for dates and if you are interested in becoming a member of the Pre-65 Motocross Club, then please head to the membership page for more information.
An alternative way to get involved with Pre-65 Motocross is to come and marshall at one of our events, anyone over the age of 18 is able to help out (due to insurance requirements). Marshalls will be fully trained before each meeting and will receive a safety briefing from our Chief Marshall at the beginning of the day. Marshalls are also give a contribution towards their expenses as well as a lunch voucher. For other ways of getting involved, please see the membership page.
For more details, please contact us and we will be more than happy to answer any questions that you may have.
Race meetings aim to get the first race underway at 10:30am.

Spectators Welcome at Race Events - Entry £5 at the gate.
Published: 11 January 2020

11 January 2020

Last Updated: 17 January 2020

17 January 2020
Did you compete in the Pre60 or Pre68 races in 2019?
Did you win a trophy?
Not sure, then come along to the presentation evening to find out!
At least 10 trophys will be presented in each of the classes with a few 'specials' being given away to some of those less competitive types.
However, we need to know NOW. Terry Sewell is organising the event and needs to confirm numbers by TUESDAY 14th January. If you want tickes can you please text or watsapp him on 07980 886454 ASAP. Ticket price is £29.50
>The presentation event is for the Pre 60 and Pre 68 classes. It will take place on 24th January 2020 at the Plough Motel, Bulphan on the A128. Guest of honour for the presentations will be Gordon Adsett.
After the buffet and awards there will be music for you to dance the night away. The venue is double tiered, so if you want to avoid the dancing you can sit up the top in the bar area. Accomodation is available.
Published: 27 November 2019

27 November 2019

Last Updated: 15 December 2019

15 December 2019
The 2020 AGM will be held on 26th January at the usual venue, Hatfield Peverel Village Hall.
You can find the "Pre65 - AGM Notice and Proxy - January 2020.pdf" on the Newletter page (under News, please note you need to be logged in as a member to see the download section). Please follow instructions contained in the document if you want to submit a proxy vote at the AGM.
The address for the AGM is Hatfield Peverel, Chelmsford, CM3 2HW
The meeting will start promptly at 10:30 so please be on time.
Published: 27 November 2019

27 November 2019

Last Updated: 27 November 2019

27 November 2019
You can now download the Pre65 Club 2020 Membership Form on the Membership page of this website.
Published: 25 November 2019

25 November 2019

Last Updated: 28 November 2019

28 November 2019
Are you going to the Telford Classic Dirt Bike Show on 15th or 16th February? If you are, could you help out on the Pre65 Club stand?

We need volunteers to man the Pre65 Club stand for an hour or two to give the regular team a break. We have had a stand at the show for the past 2 years to promote Our Club, but it seems like the same people who turn out for every event. We need a few new faces to help keep our club going.

You will only be expected to answer simple questions by the public, hand out membership forms etc. This will encourage new members and will get more people to come to our scramble meetings. If you have attended any of our meetings, as a rider, marshall or spectator, you will know what to say. If in doubt you can always direct them to the Club website, www.pre65.co.uk

Please contact Lesley Willmore on 07971266167 for more details.
Published: 15 April 2019

15 April 2019

Last Updated: 25 April 2019

25 April 2019
To comply with the AMCA rulebook every rider must have a 2kg fire extinguisher in their vehicle.
AMCA stewards will be performing random checks throughout the year so please ensure you have an extinguisher at every meeting. Also consider displaying it in a prominent position to help the stewards and make it easy to find in an emergancy.
Published: 23 November 2017

23 November 2017

Last Updated: 05 November 2019

05 November 2019
Please ensure you have the correct number plate colour and race number colour on your bike for every meeting. These will be checked during technical inspection.
The colours are:
Pre 60 bikes - white background with black numbers
Pre 65 bikes -

black background with white numbers
Pre 68 bikes -

blue background with white numbers

Pre74 bikes (1968-1973) - red background with white numbers
This is as per the AMCA rule book.
Published: 12 January 2017

12 January 2017

Last Updated: 28 November 2019

28 November 2019
In order to reduce the administrative burden on the AMCA of sorting those that have a current membership and those that do not, you will need to first apply for Club membership. Once you have received your membership receipt, you should then apply for your AMCA licence.