Welcome to the Percy Tawn Memorial Pre-60 Championship section of the website. The Pre-60 championship is run by the club chairman, Ray Tawn, and his son Steve and is run in memory of Ray's father, Percy. The father and son duo regularly contend the Sidecar Championship run by the Pre 65 Motocross Club and are highly recognisable with their black and white cheque rugby tops.
2023 Pre60 Championship Rules
Championship Rounds
Pre60 championship races will be held at each pre 65 motocross club meeting. Except the Christmas scramble. These races may, at the discretion of the meeting secretary, be combined with another class. In which case non pre60 riders will not affect the points awarded to other competitors. Only Your best two results will count when there are more than two championship races at any meeting.
Registering for Results
If you would like results sent/Emailed to you after each meeting you can register by supplying me with an Email address or first class stamps to cover championship meetings. If I already have your email address there is no need to register for 2021 My email address is
Anybody that enters and finishes a race will get championship points (no entry form required)
Classes for trophies
| | | | |
| --- | --- | --- | --- |
| A. | Overall | Percy Tawn Trophy | One Trophy for Overall Winner |
| B. | 4 Stroke twin | Bowman Trophy | 1st, 2nd and 3rd Place Trophies |
| C. | 4 stroke single | Jim Aim Trophy | 1st, 2nd and 3rd Place Trophies |
| D. | 2 stroke | Trophy | 1st, 2nd and 3rd Place Trophies |
Note--- Points for class trophies are different to Overall Percy Tawn Points
Machine Eligibility
All machines must comply with AMCA and pre 65 club rules
All machines including 650cc are eligible for championship points
All pre 60 machines are automatically entered into the race, and will score points as long as they finish the race
Riders may change machines during the season, if this means changing classes then points will be added up separately
If you enter at any meeting more than one bike, eligible for pre60 points, and you do not tell me what bike you are racing, points will be awarded to the lowest amount.
Overall championship points--- Percy Tawn Trophy-
1st = 25 pts, 2nd =22pts, 3rd = 20pts, 4th = 19pts, 5th = 18pts, 6th = 17pts, down to 20th = 1 pt.
Class trophy's - Bowman 4stroke twin - Jim aim 4stroke single—PRE60 2stroke
1st = 20pts, 2nd = 17pts, 3rd= 15pts, 4th = 14pts, 5th=12pts, 6th =10pts, 7th = 8pts, 8th = 7pts-down to 14 = 1pt
Bonus Points
Are awarded on a race-per-race basis and only to overall championship points (Percy tawn trophy)
Are awarded only to riders who finish race
Are awarded for each category, machine qualifies as follows:
Pre 55 machines = 2 pt.
Single cylinder = I pt.
Rigid rear suspension = 4pts
Side valve engine = 4pts
Girder forks = 4pts
OFFICIALS
Any official that regularly rides in the Pre60 and gives up there ride to officiate for the good of others will automatically receive the same amount of points they received at the last Round, If they officiate at the first meeting of the year they will receive the amount of points they received at the last round from the previous year marshalling from a ballot will also be included as long as the rider marshalling regularly rides in the Pre60 championship
---
'Tawn' Family History
Steve Tawn is the grandson of Percy Tawn and he explains the background to the championship.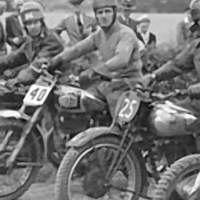 The year 2000 hosted the first championship for Pre-60 machines under the banner of Percy Tawn Memorial Pre-60 Cup. The trophy is in honour of my grandad. I wasn't fortunate to know him due to his early death in 1966. But he is responsible for the Tawn family tradition of motorcycling.
Jesse Percival Pickering Tawn, to give him his full title, was born 1908 in Tottenham. Having served an engineering apprenticeship with Shell he become a foreman fitter at the tanker repair centre in Fulham. Unfortunately his engineering skills seem to have skipped a generation reference a certain chairman's smoke generator. When Fulham closed after the war Percy became a tanker driver based at Corringham in Essex.
Motorcycling was a big part of the Tawn Family. Older club members may remember my Nan Winnie coming to Pre-65 Club meetings up until about ten years ago. In earlier years she was always by my Grandad's' side or should I say behind him as she was normally perched on the pillion seat. In later years there was Ray tagging along as well in a sidecar.
They were members of the Mont Cristie MCC based at the Woodbine Cafe near High Beach, Chingford. The club was a sporting and light car club which organised road trials, gym kanas and trials in the south Midland centre. They were also members of the Grasshopper MCC who's home was Bobs Cafe at Gallows Corner, Romford. As an eastern centre club he competed in trials, grass tracks and scrambles.
In the 1930s Percy rode in trials aboard a 350cc AJS being suitably dressed in cloth cap and plus fours. In the 40's Percy advanced from the girder forks to teleforks to compete in grasstrack and scrambles, however the rigid rear end remained. Also during the 1940's the family, Percy, Winnie and Ray would arrive at scrambles aboard a 500cc Matchless Jampot complete with Watsonian sidecar and the front end of an Ariel 350cc Colt bolted in the middle with the rear wheel dragging behind. Not recommended as on one occasion the Ariel dropped into gear and started, making stopping the whole contraption a bit of a handful.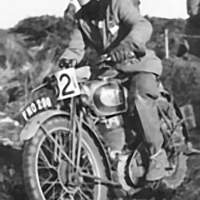 In 1958 came the arrival of the 197cc James Captain which done the task of commuting to work. The Tawns' can however boast of having one of the first cars in the street. The only other car at the time which was parked down the road fell victim to a young Ray Tawn who somehow manage to cycle into it on his push bike.
Some of the courses he rode at were Lambourne End and Wakes Colne in Essex, Canada Heights and Pirbright in Surrey and Abridge in Essex for Grasstrack meetings.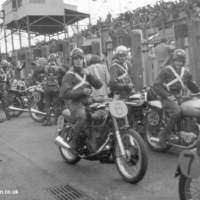 Motocycle buddies included Monty Banks, Sam Smith, Sony Absolum, Tubby Proir, George and Bill Corley, Arthur Lyons, Ernie Wiffen and Gabby Cooper with whom Percy passengered for in sidecar trials.
Percy's enthusiasm for riding bikes and being involved with motorsport took him and family aboard the Matchless all the way to Liverpool to catch the ferry to the Isle of Man.
He was the mechanic at the Manx TT races for Bill Corley who rode a 500cc Goldstar and Robin Sherry who actually won the 1952 Manx TT Senior aboard a 650cc triumph trophy.
As Ray progressed from riding a tricycle to motor bikes, Percy was there wielding the spanners for Ray to compete in school boys events. Even when Ray was out on the town on a Saturday night, Percy could be trusted to have the Greeves ready for Ray to race the following day.
Percy unfortunately died at the age of 58. I'm sure he would have been pleased to see the popularity of the Pre-65 movement and would have been proud of his son Ray being the Chairman of the Pre-65 Club. I'm not so sure he would be proud of his son and grandson making fools of themselves in a sidecar outfit but I'm sure he has a good laugh.