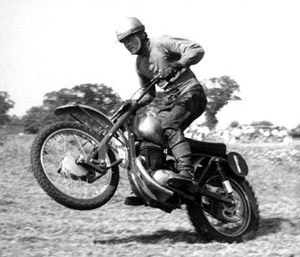 The Greeves Series is for Greeves manufactured motorcycles made from 1954 to 1973. A bonus points system is in place to entice everything from the earlier Iron Barreled Hawkstones built in the 1950s through to the 380cc Griffon QUB of the 1970s.
Run by ex-Greeves employee, Dave Harper, the series has been a huge success. From its foremost race held in 2001 at Maylandsea in Essex, the series has gone from strength-to-strength and is now consistantly contended by a grid of almost thirty-five riders and is hosted across a number of classic motorcycle clubs around England.
Rules
All Greeves owners and enthusiasts are invited to compete in any championship race provided their machine is eligible. You do not need to register, however, unregistered competitors are not awarded points but are still included in the race results.
Championship Rounds
Championship rounds will be held at selected AMCA events, consisting of two or three point scoring race's at each event.
Classes
Pre-64 (Hawkstones)
Pre-69 (Challengers)
Pre-74 (Griffons)
Points for Championship and class
1st 25pts, 2nd 22pts, 3rd 20pts, down to 22nd 1 point.
Bonus Points
The table below displays bonus points that are applied to competitors points total in the Championship.
Standard Machines
Period Hybrids
Specials
Hawkstone
200 (Iron)
5
Upto 250
3
No points
200
4
251 to 350
2
250 (Iron)
4
Over 350
1
250
3
Challenger
250
2
Upto 250
2
No points
360
1
Over 250
1
Griffon
250
1
Upto 250
1
No points
380
0
Over 250
0

The following table displays bonus points that are applicable to competitors points total in both the Championship and Classes.
Greeves Forks
All machines
1
Rider Grade
A
0
B
1
C
2
D
3
Rider Age
Over 60
1
Over 70
2

Riders may change machine from race to race with the relevant change to bonus points. You must finish to gain bonus points. Unregistered riders will not be awarded any Championship or Bonus points.
Machines
All machines must comply with AMCA, organising club and Greeves series rules.
All machines must have original Greeves frames.
All machines must have appropriate or period hubs, forks and engines.
Period Hybrids such as Tri/Greeves and NSU/Greeves are acceptable, with no loss of bonus points, for others please check to save disappointment.
Electronic ignition and non standard clutches are acceptable.
Cylinders must conform externally to the original dimensions as outlined in AMCA rules. New cylinders must be cast with the original port design.
Starmaker engines Mk1 only, wide fin. No Stormer engines.
Carburettors
Types of carburettors permitted are:
Villiers
AMAL monobloc
AMAL concentric Mk1
AMAL concentric Mk2 (Pre 74 class)
Up to 250cc maximum choke size 32mm
Over 250cc maximum choke size 36mm
Startline
In the event of there being more riders than the startline can accommodate, the organising club will decide on where riders are placed based on:
Return entries
A second row
A three race format, in which each rider will race in only two of the three
On occasions the organising may decide to run three races for all riders, your best two results of the three will count.
Race Stoppage
In the event of a race being stopped the clerk of the course has the final say if it is to be re-run. If a re-start is called, all riders will be eligible. Any protests regarding the stoppage should be made to the clerk of the course. See AMCA handbook.
If a race is not to be re-run, the result will be declared on count-back, the person or person's who caused the stoppage will not be awarded a finish. The race may be declared void at the discretion of the series organiser if less than three quarters have been completed by the leader when stopped.
---
History of how the Greeves Scrambles Series began
The Greeves Championship is the brainchild of Dave Harper. A while back he wrote an article for the Pre-65 Motocross Club newsletter explaining how the idea of the championship was provisioned and how it has progressed through its first few formative years...
Nobody has been more surprised at the success of the Greeves Pre-65 Motocross Championship than me. The Editor of the newsletter has asked me to document the story of the Greeves Series, from its chance conception in 1999 to one of the most supported races at the Pre-65 Motocross Club meetings.
The beginning...
Back in February 1999 whilst trying to sell second-hand Greeves parts at a Kempton Park Auto jumble with John and Geoff Collard I met a man who re-directed and changed my motorcycling hobby. Nick Radley was the man in question. With Nick being so young I could not understand his enthusiasm for Greeves until he told me his brother raced an MX5 Challenger and a twin port Griffon at Pre-65 Motocross meetings. At this time I was heavily involved in grass track racing, but had since 1985, attended the occasional Pre-65 Motocross meetings in Essex to watch John and Geoff wrestle their BSA Goldstars through the mud. One thing always disappointed me was how few Greeves were competing. On that cold Saturday at Kempton Park Nick was looking for parts to complete a 380cc QUB Griffon of his own that he was rebuilding. What he did not know was that 30 years earlier I had been working with Bob Mills and Ray Taylor on the prototype Griffons at the Greeves factory and desperately trying to get three ready for the Easter scramble at Brighton. What's more, I had a garage full of Griffons and parts that i had been collecting since those early days!!
Within weeks of meeting Nick i had decided to drag one of the Griffons out of the garage and find someone to ride it. It seems hard to believe now but this 250, which had laid untouched for twenty years, was taken to a Pre-65 meeting untried. My grass track pal Chris Norris turned up the morning of the meeting, entered on the day and took out membership of the club. The bike ran like clockwork all day, Chris had five good races and enjoyed every minute. We were both hooked and together we attended the last two rounds of the 1999 season.
Year 2000...
Over the winter I rebuilt the 380 QUB Griffon that had last been used in 1978 for Chris to ride in the 2000 season. My long term friend Grant Champney joined us to ride the 250. However I still wanted to see more Greeves being used and tried to persuade other owners to ride but most felt intimidated by the trick BSA's, Replica Cottons and so on. It was then I thought about a Greeves Only race. Following a chat with Nick and his brother Greg, who is a club committee member, it was proposed to run a Greeves only race at the Pre-65 August Motocross Charity meeting at Maylandsea, with each rider donating £5 to the St. John's Ambulance. To say the least, this bought about a cool reception, as one make races were frowned upon, but i was told that if I could guarantee a minimum of twenty riders we could go ahead on a one off basis.
Finding twenty riders wasn't going to be easy but the word was put out and with Nick Radley's offer to ride his showpiece 380 QUB Griffon we had the minimum number of rider required. Incidentally, Nick had never ridden off-road before, brave man!! The race was run as a handicap with Hawkstones off first, then Challengers and finally Griffons.
Year 2001...
The success of the race made me want more as it was great to see so many Greeves on the racetrack again. During the winter of 2001 much lobbying took place and Greg Radley on my behalf asked the Club committee if we could run a Greeves only series and much to everybody's surprise the answer was YES! Pre-season advertising literature was circulated within the Pre-65 Club and other interested parties. The objective of the series was to produce a clear winner, irrespective of rider age, rider ability, machine type or machine capacity. This was achieved by the use of a bonus points score system. Within the overall championship there were also classes of different machines, Pre 64 (Hawkstone's and MDS), Pre-69 (Challengers) and Pre-74 (Griffons). The first Greeves Series 2001 season got off to the worst possible start with the Foot and Mouth outbreak. However, by the spring bank holiday weekend a two-day meeting was given the all clear at Marks Tey near Colchester. A good Greeves entry of 22 riders, a broad mix of bikes and competitive racing got the Greeves Series off to an excellent start. In addition to the actual riders, some whom got hooked and by the end of the season a further five had joined the fray.
Year 2002...
As with any new process a serious review took place before the start of the 2002 season so that i could upon the successes of 2001. Democratically the Greeves series riders of 2001 were lobbied with revised proposals to make the points system fairer to all competitors. Auto jumble days at Kempton Park were often the place of discussion with spontaneous group of interested parties getting together to review the latest proposals. Well before the first meeting of the year, again at Marks Tey, the revised points system was in place. The first meeting was so well subscribed that a few riders had to start from a second row of the starting line!! I have also been told by some riders on the start line that day that I looked quite emotional at the sight of almost 40 riders on the line.
The Future...
The series continues to go from strength to strength, with a good mix of bikes, excellent camaraderie amongst the riders and a wide age spread of competitors. I am very conscious that without the younger riders coming through the series will waste away as the older Greeves riders become to old to ride anymore. The Pre-65 Motocross Club has also benefited indirectly because membership and meetings attendance has increased, and therefore revenues, a real win win situation for all concerned. So why not join in? Dust off that old Greeves and come and race with us. I hope to see you there.
Dave Harper