Rules for 2019
Open to Pre 85 twin shock four stroke sidecars
Only full club members can score championship points
There will be 2 championship races per meeting
Lowest 2 worst scores, accross all meetings, will be deducted from final total
Points are awarded as follows:
1st = 25 pts
2nd = 20 pts
3rd = 18 pts
4th = 16 pts
5th = 14 pts
6th = 12 pts down to 15th = 1 pt
10 pts will be awarded for every meeting attended (no attendance points are dropped at the end of the year)
---
Sidecar Championship History
Written by Paul Game, who originally introduced the Pre-85 Sidecar Championship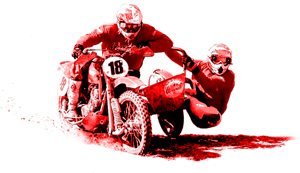 During the 2000/2001 season Chairman Ray Tawn spoke to myself and Tony Girling (both club members) to see if it would be possible to get enough people together to run a demonstration sidecar race at a couple of the clubs meetings during the year. This was duly achieved with about 6 sidecars in attendance. Chairman Tawn and son Steve were allowed to borrow an outfit to try and they were bitten by the bug. During the off season, Ray and Steve acquired a 750 Norton wasp and it was suggested that the class became a regular one in the clubs meetings.
At the AGM in February 2001 after much discussion and some objections it was agreed that a class would be run in the 2001 season.
The 2001/2002 season saw a mixture of size of entries from 14 at Marks Tey and 12 at Tye farm to 6 at one or two of the other meetings. However, as the season progressed we had, in all, 27 different sidecar crews attend meetings from all over the country including the raining British twin-shock Champions Paul Morris and passenger Mark Snell.
At the end of the first year of the championship Ivan and Wayne Barker, from Braintree, on a 980 cc Norton Wasp were the overall winners