Rules for 2008 (to be updated)
Open to Pre 85 twin shock four stroke sidecars (including airbag models) and Pre 74 European engine air cooled twin shock two strokes.
Only full club members can score championship points
There will be 2 championship races per meeting
The best 14 scores to count towards overall championship position
Trophies will be awarded to the top 1/3 crews in the final championship position
Points are awarded as follows:
1st = 20 pts
2nd = 17 pts
3rd = 15 pts
4th = 13 pts
5th = 11 pts
6th = 10 pts down to 15th = 1 pt
10 pts will be awarded for every meeting attended
Engine & bonus points per race will be as follows:
British 2 stroke Pre-74 = 4 pts
British 4 stroke Pre-85 = 3 pts
Japanese Pre-85 = 1 pt
Period Rotax Pre-85 = 0 pts
---
Sidecar Championship History
Written by Paul Game, who originally introduced the Pre-85 Sidecar Championship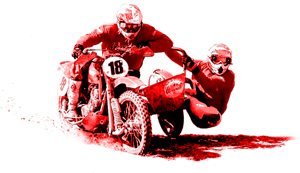 During the 2000/2001 season Chairman Ray Tawn spoke to myself and Tony Girling (both club members) to see if it would be possible to get enough people together to run a demonstration sidecar race at a couple of the clubs meetings during the year. This was duly achieved with about 6 sidecars in attendance. Chairman Tawn and son Steve were allowed to borrow an outfit to try and they were bitten by the bug. During the off season, Ray and Steve acquired a 750 Norton wasp and it was suggested that the class became a regular one in the clubs meetings.
At the AGM in February 2001 after much discussion and some objections it was agreed that a class would be run in the 2001 season.
The 2001/2002 season saw a mixture of size of entries from 14 at Marks Tey and 12 at Tye farm to 6 at one or two of the other meetings. However, as the season progressed we had, in all, 27 different sidecar crews attend meetings from all over the country including the raining British twin-shock Champions Paul Morris and passenger Mark Snell.
At the end of the first year of the championship Ivan and Wayne Barker, from Braintree, on a 980 cc Norton Wasp were the overall winners
2002/2003 Season
The season got off to a good start at Marks Tey in March with a full line-up of 18 sidecars from all over the country, several crews being keen to test there bikes after winter rebuilds.
In the 2003 championship Michael and Suzanne Mead set the pace by winning the first 3 races of the season and then a second place Ray and Russell Humm chased hard with consistent results. Further back, Ian and Tim Bennett and Terry and Alyson mead were fighting for 3rd and 4th place in the championship.
Last years championship winners Ivan and Wayne Barker had a series of mechanical problems robbing them of a chance to defend there title. As the season progressed the entry numbered a consistent 12 to 15 and new faces appeared regularly. Nat Sealey and Peter Girling, although not competing in all the rounds, proved that on there day they are as quick as anyone and, at Gt. Bardfield, had a spectacular race long duel with Peters father Tony Girling who, having an experienced passenger in the sidecar for the first time this season, turned the clock back 25 years to chase and overtake Nat and Pete.
As the season came to a close Michael Mead and Suzanne Mead still lead the championship table but suffered a crash at Gt. Bardfield, resulting in no points being scored. Meanwhile, Ray and Russell Humm picked up a 2nd and 3rd place to leave the championship wide open.
At the last meeting of the season Ray and Russell scored two championship wins over a still detuned Michael and Suzanne, resulting in a tie for 1st place on equal points and the same number of 1st,2nd and 3rd places
It was initially decided that as Ray/Russell had won the last race and so they should be champions. But in a true sporting manner, the Humms refused and declared that the Championship would be shared with Michael and Suzanne Mead
Third in the table were Ian and Tim Bennett. Forth were Paul Game and Jason Sigournay who overtook Terry and Alyson Mead due to there picking up an injury and missing the last meeting.
Let's hope that next season will be as friendly and enjoyable as this year was.