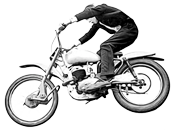 Yes, we are ready for our first scrambling of 2020, but it's just a practice session at the moment.
Following guidance from the AMCA, which insures all our meetings, we are able to run a practice session. However, it comes with some new temporary rules, which will be enforced.
This is a PRACTICE meeting for SOLO riders only to be held on 26th July at Marks Tey. All riders will be released one at a time at the start of a session. No racing is permitted. Anyone seen riding in a dangerous or aggressive manner will be black flagged and could be asked to leave the venue. Please ride sensibly to keep everyone as safe as possible. If you leave a session before the end you will not be able to return to the same session.
Entry is closed to Pre65 Club Members and will be kept to a maximum of 80 riders. The riders will be split into 4 groups of 20 by age once all the entries have been received. Each group will get 4 sessions of 15 mins. 16 sessions total (if time permits).
Only the riders + one mechanic will be allowed into the site. No other family members can accompany you and strictly no spectators. Vans will be checked on arrival to ensure we keep to this rule. The gate will be locked at 9am sharp and only opened at the end of the meeting or for access by the emergency services.
You will be expected to park your vehicles 10m apart. We will be putting posts in the paddock every 10m and we would like you to park your vehicle directly in front of a post, when directed by a steward. Please stay in your family units and ensure you maintain any current government social distancing guidelines.
It is the responsibility of each competitor and mechanic to bring with them any PPE required to meet government guidance.
NO OVERNIGHT camping but the usual toilet block will be open at Marks Tey. The club will be providing some basic facilities but please bring your own toilet paper, handwash, sanitizer, etc to prevent any spread of germs.
There will be no catering van or tannoy.
There will be no 'signing on' on the day of the event, but you must sign and show your acceptance slip when you arrive as this proves you are covered by the AMCA insurance.
The Pre65 Committee are putting in a lot of time and effort to run this meeting. Please keep to these rules and make this a safe and hassle-free event. If it all goes well there will be more. If we have problems then maybe this will be the end of Pre65 Club racing for 2020. We need your support and cooperation.