News
Written by Adrian Dickerson

Adrian Dickerson

Published: 12 February 2017

12 February 2017

Last Updated: 12 February 2017

12 February 2017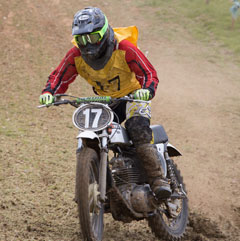 With thoughts on the coming season it could well be a busy time once April arrives. Along with our own events at Marks Tey and Maylandsea is the Northampton Clubs meeting in between at Sproxton. Then, less than a week following Maylandsea, is the 2 day event at Mortimer taking in the 100 miler on Saturday 6th May, making it four weekends in a row for some.
Many will already be aware of the recent sad passing of Gerry Allen of the Mortimer Club known throughout the classic movement as a formidable rider and an all-round good egg who worked tirelessly for the Club and sport. Our condolences go to Prim, his wife and their family.
Last years winners of the 100 miler was a team made up of equal numbers of the Graves and Archer families. The picture attached shows young Ben in impressive style at the bottom of the hill prior to the finish straight (Photo courtesy of Colin Dearlove).
Roll on March and some warmer weather.