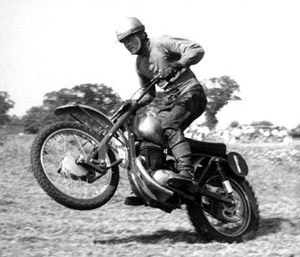 The Greeves Series is for Greeves manufactured motorcycles made from 1954 to 1973. A bonus points system is in place to entice everything from the earlier Iron Barreled Hawkstones built in the 1950s through to the 380cc Griffon QUB of the 1970s.
Run by ex-Greeves employee, Dave Harper, the series has been a huge success. From its foremost race held in 2001 at Maylandsea in Essex, the series has gone from strength-to-strength and is now consistantly contended by a grid of almost thirty-five riders and is hosted across a number of classic motorcycle clubs around England.
Rules
All Greeves owners and enthusiasts are invited to compete in any championship race provided their machine is eligible. You do not need to register, however, unregistered competitors are not awarded points but are still included in the race results.
Championship Rounds
Championship rounds will be held at selected AMCA events, consisting of two or three point scoring race's at each event.
Classes
Pre 64 (Hawkstones)
Pre 69 (Challengers)
Pre 74 (Griffons)
Points for Championship and class
1st 25pts, 2nd 22pts, 3rd 20pts, down to 22nd 1 point.
Bonus Points
The table below displays bonus points that are applied to competitors points total in the Championship.
Standard Machines
Period Hybrids
Specials
Hawkstone
200 (Iron)
5
Upto 250
3
No points
200
4
251 to 350
2
250 (Iron)
4
Over 350
1
250
3
Challenger
250
2
Upto 250
2
No points
360
1
Over 250
1
Griffon
250
1
Upto 250
1
No points
380
0
Over 250
0

The following table displays bonus points that are applicable to competitors points total in both the Championship and Classes.
Greeves Forks
All machines
1
Rider Grade
A
0
B
1
C
2
D
3
Rider Age
Over 60
1
Over 70
2

Riders may change machine from race to race with the relevant change to bonus points. You must finish to gain bonus points. Unregistered riders will not be awarded any Championship or Bonus points.
Machines
All machines must comply with AMCA, organising club and Greeves series rules.
All machines must have original Greeves frames.
All machines must have appropriate or period hubs, forks and engines.
Period Hybrids such as Tri/Greeves and NSU/Greeves are acceptable, with no loss of bonus points, for others please check to save disappointment.
Electronic ignition and non standard clutches are acceptable.
Cylinders must conform externally to the original dimensions as outlined in AMCA rules. New cylinders must be cast with the original port design.
Starmaker engines Mk1 only, wide fin. No Stormer engines.
Carburettors
Types of carburettors permitted are:
Villiers
AMAL monobloc
AMAL concentric Mk1
AMAL concentric Mk2 (Pre 74 class)
Up to 250cc maximum choke size 32mm
Over 250cc maximum choke size 36mm
Startline
In the event of there being more riders than the startline can accommodate, the organising club will decide on where riders are placed based on:
Return entries
A second row
A three race format, in which each rider will race in only two of the three
On occasions the organising may decide to run three races for all riders, your best two results of the three will count.
Race Stoppage
In the event of a race being stopped the clerk of the course has the final say if it is to be re-run. If a re-start is called, all riders will be eligible. Any protests regarding the stoppage should be made to the clerk of the course. See AMCA handbook.
If a race is not to be re-run, the result will be declared on count-back, the person or person's who caused the stoppage will not be awarded a finish. The race may be declared void at the discretion of the series organiser if less than three quarters have been completed by the leader when stopped.